Ernst Barlach: The Letters
Critical Edition in Four Volumes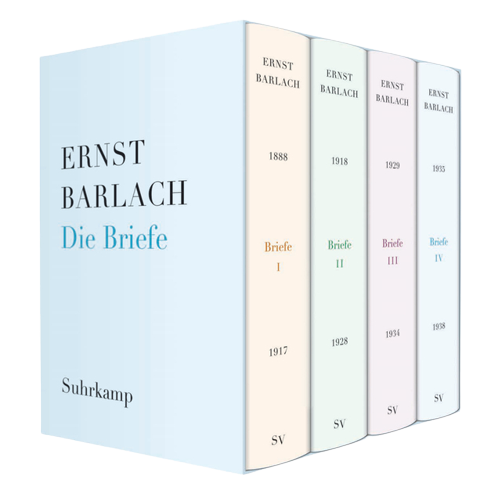 Ernst Barlach holds a special place among modern artists. Thomas Mann judged his play, The Dead Day, to be "the strongest and most peculiar...thing produced by the latest drama in Germany". Bertolt Brecht wrote about his sculptures: "They contain much that is essential and nothing that is superfluous". When Neil MacGregor searched for an iconic exhibit for his 2014 London exhibition "Germany - Memories of a Nation", he chose Barlach's The Floating One (also known as The Floating Angel ) from the Güstrow Cathedral.
With his letters, Barlach wrote the novel of his life. The arc ranges from a search for meaning and self-expression to becoming an artist and achieving mastery, to despair and loneliness. The single father provides updates, the confident artist negotiates, the loner withdraws, the politically interested observer comments. The writer is well-read in many literatures, knowledgeable about art, and gifted at self-promotion. He is sensitive and unassuming, curious and stubborn, asking for help and ignoring it. In his letters, Barlach is revealed as a human being.
In January 2020, on the occasion of Ernst Barlach's 150th birthday, Suhrkamp Verlag published a four-volume critical edition of his letters. This contains newly transcribed texts from the originals as well as a contextual commentary. About a quarter of the more than 2200 letters are published here for the first time.
Our Team
Project Director / Director of the Working Group
Prof. Dr. Holger Helbig
Deputy Project Director / Director of the Working Group
Dr. Paul Onasch
Research Assistants
Dr. Elisabeth Laur
Parental leave replacement for Henri Seel
Karoline Lemke
Sarah Schossner
Henri Seel
Student Assistants
Svenja Pauline Adamek
Period: 04/2017 – 12/2019
Ann-Marie Engelke
Period: 05/2018 – 08/2018
Julia Höhlein
Period: 02/2017 – 03/2018
Cory Kolber
Period: 10/2018 – 03/2018
Sophie Magaard
Period: 07/2018 – 03/2019
Nina Pilz
Period: 07/2018 – 03/2019
Charlotte Ruchhoeft
Period: 09/2016 – 08/2017
Caroline Thom
Period: 09/2018 – 03/2019
Contact
Letter Edition »Barlach 2020«
Institute for German Studies
Gertrudenstraße 11, Torhaus
18057 Rostock
Tel.: 49(0)381 498 2540
E-Mail: holger.helbiguni-rostockde